Plan your wedding.
Wedding planner helps you prepare your wedding with ease. Record your activities, your contacts, plan your budget easily. Store your ideas, your notes, your links. Wedding Planner.
Each of the 13 Preparations Categories has its own page, where planners can add appropriate items and each item's budget. There are also check boxes for completed tasks and the date, plus a a section for notes. Automatically, the multi-colored bar graph in the Budget window includes the total expenditures in each Category. Also in the Budget window is the Total Budget display, with color-coded Categories.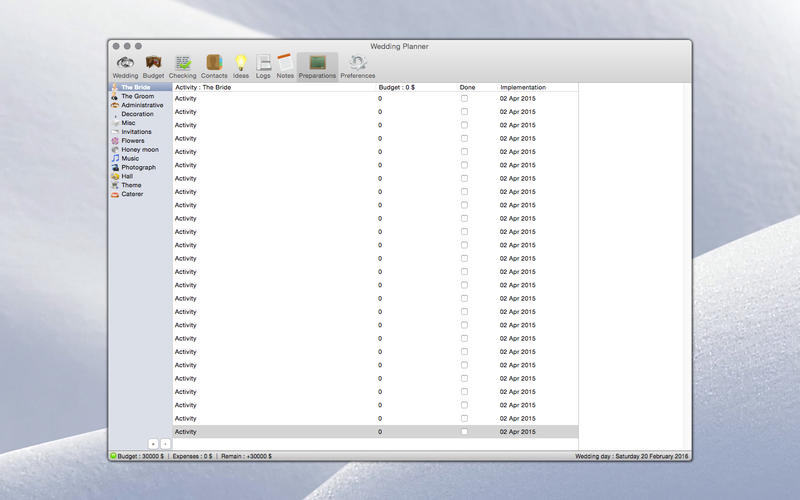 Feature Highlights of Wedding Planner :
Plan every aspect of a wedding.
13 different Categories for planning and preparation.
Extensive budgeting capabilities for all 13 Categories, plus graphs.
Elegant design with custom, 3D icons.
Get an overall view of the progress, planning, and budgeting of your wedding?
The Ideas Window lets users create file entries for a website, contact, name, address, and telephone number. There is also room for a full text description of the Idea and an image. The Preparation Notes window allows detailed notes.
The Preferences settings include a Total Budget field that can be in any of eight different currencies. Users can use the built-in calendar to set the Wedding and Invitation dates and change tentative Budgets into final Budgets.
Features of Wedding Planner :
Wedding Planner is available on the Mac App Store
Wedding Planner is digitally signed.
Wedding Planner is for Mac.
Wedding Planner is easy to use.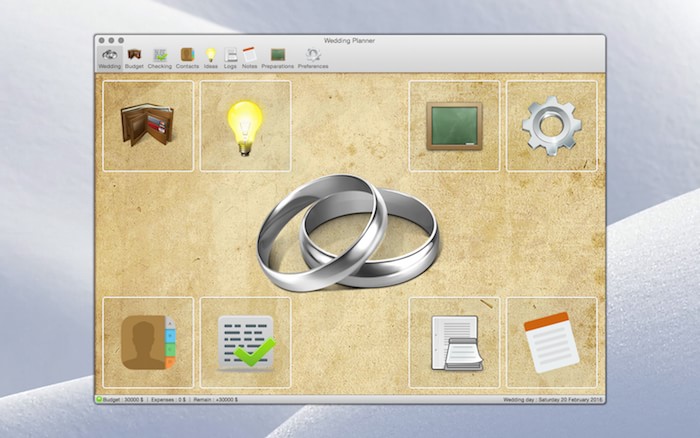 Details :
Price : $0.99
Category : Lifestyle
OS : OS X 10.8 or later
Version : 1.1.0
Download Wedding Planner :
Information :